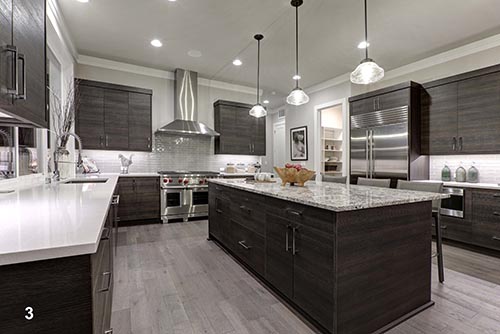 Avoiding kitchen remodeling mistakes
Before you dive in too deep to your anticipated kitchen remodeling project, make sure you have all of your bases covered. The last thing you want is to have regrets as soon as the remodel is complete. Suddenly, your amazing vision has been blindsided and you're thinking up changes minutes after seeing the result. You don't want that! Therefore, think every detail through before getting started. Here are some common kitchen remodeling mistakes to remember:
Remodel design is too trendy
The biggest red flag with an overly-trendy design is that it can quickly become outdated. Ironic, right? You're trying to fit in and suddenly you're an outcast?! That's the name of the home remodeling game. Home designs change; for this reason, going bold is risky.
It's best to decide on a timeless color for your theme. Colors such as white, grey or black. Beige works as well, depending on the color and materials of the cabinetry. Furthermore, colors like red, green or blue could be risky. They are tougher to match with and aren't as adaptable. Present day is important, but you have to consider long run as well. Both in your current home living and added resale value in case you ever move out.
Non-ergonomic design
Appearance is one thing, however, don't forget that a kitchen is an area of function. You will be a common participant in the kitchen. Cooking, cleaning, eating, storing…you need to be able to do all of these items with ease. Ultimately, make sure your kitchen setup is properly. Your dishwasher should be next to the sink and your fridge should be a few feet from the sink.
Be sensible with your cabinetry as well. You should have some cabinets within arm's reach to simplify cooking and storing. These ideas might look like common sense; nevertheless, the reason we're talking about it is because all these kitchen remodeling mistakes have been made before.
Wrong flooring choice
A kitchen floor is a big deal. The 4 major features to kitchen design are flooring, countertops selection, cabinetry and wall coloration. Each needs to flow and work together to create a single stunning design. With that said, make sure you select your flooring type in accordance with the other three features. In addition, think about the traits of flooring past just the look.
A kitchen floor must be comfy (because it's a high-traffic space), moisture-resistant (due to steam and spills), and maybe scratch-resistant (in case you have dogs). Thus, the most effective kitchen flooring types are tile and stone. Wood floors are risky because of their porosity and vulnerability to scratching.
Wrong countertop choice
You won't know exactly how your countertops will fit in with your kitchen until you live with it for some time. Yet, your chances of making the best countertop choice will increase by proper previous trend research. Research common countertop choices to compare their strengths and weaknesses. This way you can match a particular countertop with your living habits.
For instance, a limestone countertop may not be a sensible choice if you're constantly cooking heavy duty meals. Reason being, limestone isn't scratch-resistant, neither is it heat-resistant. Or granite, for instance, doesn't work well with moisture until it's correctly sealed. Natural stone countertops are timeless and beautiful. If you need your remodeled kitchen to standout, natural stone is for you.
Didn't do enough
Lastly, try to have your design as specific as possible before beginning. You need to have a picture in mind as to what you need the end result to look like. That way you can monitor the remodel because it helps make sure the project goes according to plan. Also, it's important to be involved with the remodel if you have it professionally done. It doesn't hurt to ask questions, particularly in aspects that pertain to your home. You definitely don't want to feel like you didn't do enough as soon as it's all said and done.
For your remodeling needs, and to avoid kitchen remodeling errors, My Construction Group is your top source. You can trust our experts to execute your kitchen remodel to a tee. Contact us right now! Also, please visit our blog for more useful info.